​Have you heard about www.google.com?
Of course… who hasn't, I'm sure that's what you will say.
In fact you sure would have made some searches from the Almighty Google.
Statistics showed that google is the one of the most visited website in the world.
Just like google.com and every other website maybe popular or not, there is something that they all have in common.
For the website to be accessible online, they definitely must have passed through this two stages.
They must have a domain name and must have hosting account.
This post is not about google.com or any other website out there, but it is a very detailed guide for users who desire to learn about the science behind website hosting and domain names.
Topics covered include  
How web hosting works.

Types of web hosting servers.

How domain name works.

The distinction between web hosting and domain name.

Exactly how domain name registration process.

Further readings.
What is a Web Hosting?
What is a web hosting? Web hosting is a big computer system (that we call server) where people store their websites.
How Website Hosting Works
How does web hosting work? Consider it as a house where you keep all your things; but instead of storing your garments and furniture, you store computer system file (HTML, documents, pictures, videos, etc) in a web host.
Typically, the term "web hosting" describes the company that lease their computer/servers to store your website and also give Internet connectivity so that other users can access the files on your website.
Web Hosting and Data Centre: Aren't they the same?
The term "web hosting" generally refers to the server that hosts your website or the hosting company that rent that web server space to you.
Data centre typically refers to the facility that is made use of to house the servers.
A data centre can be a room, a home, or a large building equipped with redundant or backup power supplies, redundant data communications connections, environmental controls– i.e. air condition, fire suppression, as well as security devices.
Different Types of Web Host Explained
Typically, there are four different types of hosting servers: Shared, Virtual Private Server (VPS), Dedicated, and Cloud Hosting.
While all types of web servers will serve as a storage centre for your website, they vary in the amount of storage capacity, control, technical knowledge requirement, server speed, and reliability.
Let's dig in and take a look at the primary distinctions in between a shared VPS, dedicated, and cloud hosting.
Shared Hosting
What Is Shared Hosting? In shared hosting, one's website is put on the very same web server as several other websites, ranging from a few to hundreds or thousands.
Commonly, all domain names may share a common pool of server resources, such as RAM and the CPU.
As cost is extremely low, many websites with moderate traffic levels running standard software are hosted on this type of server. Shared hosting is likewise widely accepted as the entry level hosting option as it calls for minimal technical expertise.
Disadvantages 
No root access 

Limited capability to manage high website traffic degrees or spikes

Website performance can be influenced by other websites on the same web server
How much to invest
Not more than 3,630.70 Nigerian Naira on signup
Recommended shared hosting services
A2 Hosting, Hostinger, HostPapa.
Virtual Private Server (VPS) Hosting.What Is VPS Hosting? A virtual private server hosting divides a web server into digital web servers, where each website like hosted on their own dedicated server, but they're actually sharing a server with a few of other users.
The users may have root access to their very own virtual space and much better secured hosting environment with this sort of hosting. Websites that need higher control at the server level, but don't wish to buy a dedicated server.
Disadvantages
Limited capacity to handle high website traffic levels or spikes

Your website performance can still be somewhat affected by other websites on the web server.
How much to spend
NGN7,261.40–NGN21,784.20/mo; additional expenses for those that require additional server customization or special software.
Recommended VPS hosting services
InMotion Hosting, Interserve, SiteGround.
Dedicated Server Hosting.
What Is Dedicated Hosting? A dedicated server provides the optimum control over the web server your website is stored on– You specifically rent an entire server. Your website( s) is the only website stored on the server.
Disadvantages– With great power comes … well, greater cost.
Dedicated web servers are very expensive as well as it's only recommended to those that require the maximum control as well as better server performance.
How much to spend
NGN29,045.60/mo and above; price based on server specifications and extra services.
Recommended dedicated hosting services
A2 Hosting, LiquidWeb, M3 Web Server.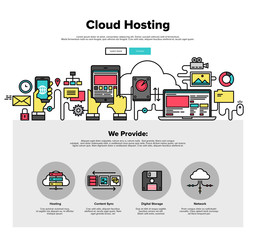 ​

Cloud Hosting

What Is Cloud Hosting? Cloud hosting offers unlimited ability to manage high traffic or traffic spikes.

Here's how it works

A team of servers (called a cloud) work together to host a group of websites. This permits numerous computers to work together to manage high website traffic levels or spikes for any particular website.

Disadvantages
Many cloud organizing setup do not supply root access (called for to transform web server setups and install some software program) 

Greater expense.
How much to spend
NGN10,892.10 and above; cloud hosting users are typically billed on a per-usage basis.
Recommended cloud holding services
WP Engine, Kinsta, Hostgator. What makes a good web hosting company?There are lots of factors to put into consideration when you are selecting a web host.
Server performance

Price 

Features

Customer supports

And also web server physical location
These are normally the key elements shoppers look into.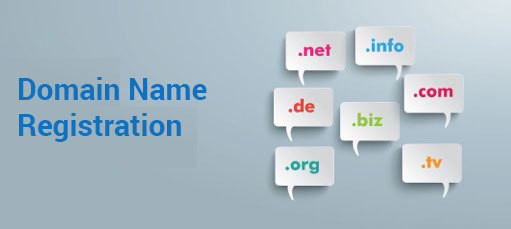 How Domain Name Works
What is a domain name? A domain name is the name of your website. Before you can create a website, you will need a domain name.
A domain name is not something physical that you can touch or see; it is simply a string of characters that give your website an identity (yes, a name, like human and businesses).
Here are some quick instances
Google.com is a domain name; so are Alexa.com, Linux.org, eLearningEuropa.info, as well as  Yahoo.co.uk. To have your very own domain name, you will need to register your domain with a domain registrar.
Back to our examples.
Alexa.com, Linux.org, eLearningEuropa.info, and also Yahoo.co.uk– these domain names finish with a different 'extension', particularly: .com, .org, .info, .co.uk.
We call this "extension" as top-level domain  (short form: TLD).
Examples of other TLD include
.uk, .ws, .co.jp, .com.sg, .tv, .edu, .co, .com.my, and .mobi 
While most of these TLDs are open to the public's registration, there are stringent regulations on certain domain registration.
For example, the registration of country code top-level domain names (like .co.uk for the United Kingdom) are limited for the people of the corresponding nation; and the activities with such domain names website are ruled by local regulations and cyber laws.
Specific extensions of these TLDs are used to explain the 'attributes' of the site–example  .biz for businesses, edu for education (institutions, universities, associates, etc),.
org for public company, and nation code leading degree domain names are for locations.
Country code top level domain.
Country Code TLDs.
The full list of country code top-level domain (ccTLD) extensions are (in alphabet order):
.ac .ad .ae .af .ag .ai .al .am .an .ao .aq .ar .as .at .au .aw .ax .az .ba .bb .bd .be .bf .bg .bh .bi .bj .bm .bn .bo .br .bs .bt .bw .by .bz .ca .cc .cd .cf .cg .ch .ci .ck .cl .cm .cn .co .cr .cu .cv .cx .cy .cz .de .dj .dk .dm .do .dz .ec .ee .eg .er .es .et .eu .fi .fj .fk .fm .fo .fr .ga .gd .ge .gf .gg .gh .gi .gl .gm .gn .gp .gq .gr .gs .gt .gu .gw .gy .hk .hm .hn .hr .ht .hu .id .ie .il .im .in .io .iq .ir .is .it .je .jm .jo .jp .ke .kg .kh .ki .km .kn .kp .kr .kw .ky .kz .la .lb .lc .li .lk .lr .ls .lt .lu .lv .ly .ma .mc .md .me .mg .mh .mk .ml .mm .mn .mo .mp .mq .mr .ms .mt .mu .mv .mw .mx .my .mz .na .nc .ne .nf .ng .ni .nl .no .np .nr .nu .nz . om .pa .pe .pf .pg .ph .pk .pl .pn .pr .ps .pt .pw .py .qa .re .ro .rs .ru .rw .sa .sb .sc .sd .se .sg .sh .si .sk .sl .sm .sn .sr .st .sv .sy .sz .tc .td .tf .tg .th .tj .tk .tl .tm .tn .to .tr .tt .tv .tw .tz .ua .ug .uk .us .uy .uz .va .vc .ve .vg .vi .vn .vu .wf .ws .ye .za .zm .zw 
And that's not all. We currently have more than 1,000+ generic TLDs (gTLD) opened to the public, including .BAR,. BARCELONA, .BUILD, .FOREX, .CLUB, .UNIVERSITY, .REST, .WEBSITE, .WIEN, XYZ, and so on. You can find the full list of high-level domains in the Root Zone Database.
Additionally, ICANN releases case studies on the use of various generic TLD (ie .auto, .bank, .ceo, .nyc, etc, check it out if you are interested. Domain vs Sub-domain.Take mail.yahoo.com for instance– yahoo.com is the domain name, mail.yahoo.com in this case, is the sub-domain name.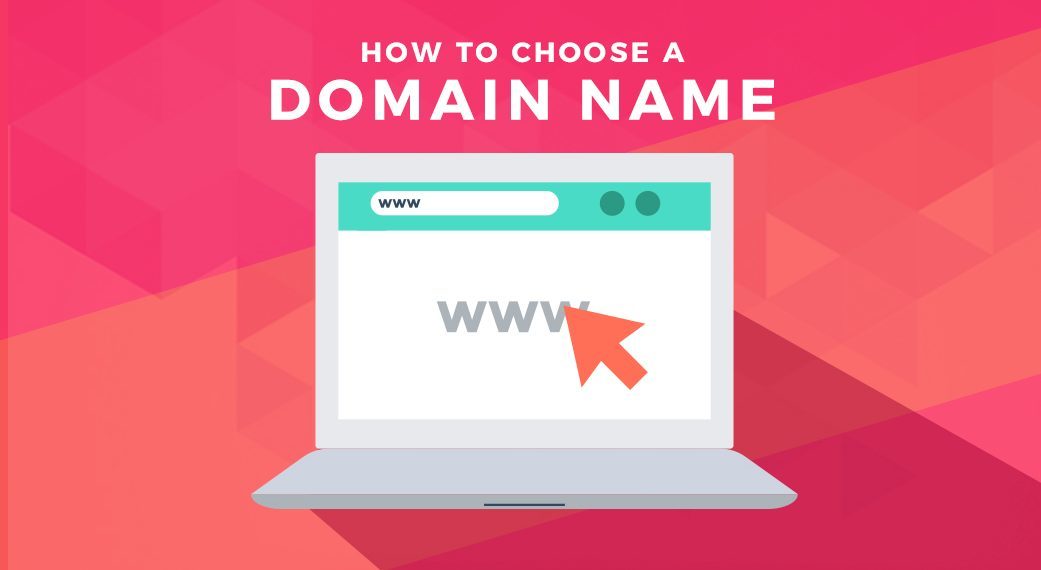 A domain name must be unique (for example there can only be one Yahoo.com) and must be registered with a domain name registrar (ie. NameCheap); while for sub-domains, users can freely add it on top of the existing domain as long as their web host provide the service.
Some would say sub-domains are the 'third level' domains in the sense that they are simply "sub folders" under the domain root directory, normally use to organize your website content in different languages or different categories.
However, this is not the case to many including the internet search engine– it is a known fact that the internet search engine (e.g Google) treat sub-domain as a different domain independent from the main domain name.
The difference between a domain name and web hosting
Domain and web hosting are two different things.
Yet they are commonly sold by the very same providers. For examples– InMotion Hosting, whose core business is website hosting, additionally provides domain name registration service.
GoDaddy, the world largest domain registrar, uses a wide array of different web hosting services.
Hence it is very common for beginners to get confused between a domain and web hosting.
To streamline
A domain, is like the address of your house; web hosting on the other hand, is the space of your house where you place your furniture.
Instead of street name and area code, set of words or/and numbers are used for the website's naming'. 
The same is applicable to web hosting, computer hard drive and computer memory are used as opposed to wood and steel for storing and processing data files.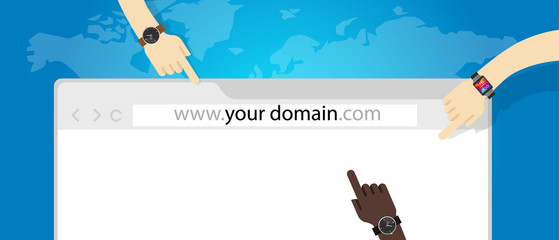 ​
Domain Name vs Web Hosting – how does it work
The difference between domain with web hosting. Simply put– they are not the same thing.
Here's just how domain name registration works from a customer's perspective.
Think of a good name you want for your website. A domain needs to be one-of-a-kind. Prepare a few variations– just in case the name is taken by others.Make a search on one the registrars' internet site (eg. GoDaddy).
If your selected domain name is not taken, you can purchase it instantly.
Pay registration fees, range NGN3,636.70– NGN12,728.45 depends on the TLD (generally using PayPal or credit card).You are now performed with the enrollment process.Next you will need to point the domain name to your web hosting (by changing its DNS record).
And that's about it.
We discussed in-depth regarding how to pick a good domain name, compared domain registration prices, and also described the process of purchasing an existing domain in this domain name beginners overview.
Who's governing domain registration process?
Internet Privacy.
Things are a lot more complex from a domain name registrar's perspective. Domain registration process is governed by the Internet Corporation for Assigned Names and Numbers, acronym ICANN.
This regulating body is basically a worldwide regulatory authority of best practices for web hosts, host, and the clients who interact with them.
According to the body's standards, all clients registering a domain name must be prepared to furnish contact information for themselves, their business, their organisation, and even their employer in some cases.
Regulations on ccTLDs
For those users that are seeking to register a country-specific domain name alternative (like ". us" or ". co.uk"), a great section of the registration procedure will be devoted to identifying whether or not the user is a citizen of that nation and therefore legitimately permitted to buy one of its country-specific top-level domains (will discuss this later).
And that need to hammer home a secondary point to users.
While there are thousands of available domain suffixes (like ". com" or ".net), most of these domain names have specific registration requirements.
For instance, only organizations can register a ". org" domain, and also just American residents can register a domain name that ends with ". us."
Falling short to fulfill the guidelines and requirements for any kind of domain during the actual registration and payment process will result in the domain name being "launched" back right to the pool of available domain names; the customer will have to select a top level domain name for which they in fact qualify, or terminate their purchase entirely.
During the signup procedure, it's additionally vital to know straight from a web host, as this information will be needed when completing the DNS and MX record information during registration.
These 2 records determine which web hosting server's content is displayed when a user navigates to the domain, in addition to how email is addressed, sent out, and received utilizing that web hosting package and the associated domain name.
Inaccurate info will result in mistakes and page-load failings.
WHOIS DATA
Every domain name has a publicly accessible record that consists of the owner's personal info such as owner name, contact number, mailing address, and domain registration along with expiration day.
It's called a WhoIs record and lists the registrant and contact for the domain.
As required by the Internet Corporation for Assigned Names and Numbers (ICANN), the domain owners have to make these contact information available on WHOIS directories. 
These records are available anytime to any individual that does an easy Whois lookup.
Simply put, if somebody wishes to know who has a website, all they to do is run a fast WHOIS search, type the domain name and voila, they have access to the website registration details.
In result, your personal details, such as physical address, e-mails, phone number, etc is hide from the public.
Domain privacy is very important because your domain name record (ie. the WhoIs data) may additionally be utilized in manners which aren't legitimate or desirable.
Considering that anybody can look up a WhoIs record, spammers, hackers, identity thieves and stalkers might access your personal details!
Dishonest companies check domain expiry dates then send official looking "renewal" notices in an attempt to get the domain name owners to move domains to their business or send billings that are service solicitations for search engine submissions and other questionable services.
Both email and snail mail spammers use the WhoIs databases to harvest domain owners' email and contact domain name owners with solicitations too.